Unlock Rapid Weight Loss – Achieve Results Without Exercise!
Unlock the Secret to a Revitalized You! Whether you're an endomorph or any body type, our comprehensive metabolic ebook is tailored for women over 40 seeking a healthier diet and effective ways to supercharge their metabolism. Discover the answers to your weight loss struggles and uncover the key to fixing your slow metabolism with this invaluable guide.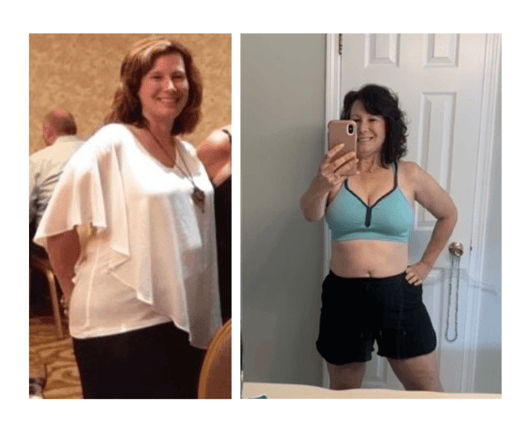 "I used to be an overwhelmed woman, battling to shed weight and restore hormone balance, all in pursuit of regaining my confidence and radiance."
"When menopause hit, weight loss seemed next to impossible, until I found this proven, scientific method and finally found long-term weight loss success!"
This top weight loss expert reveals tips and secrets you need to lose weight fast without spending 18 hours a day at the gym.
See What Others Are Saying About The Brand New "Metabolic Mastery eBook"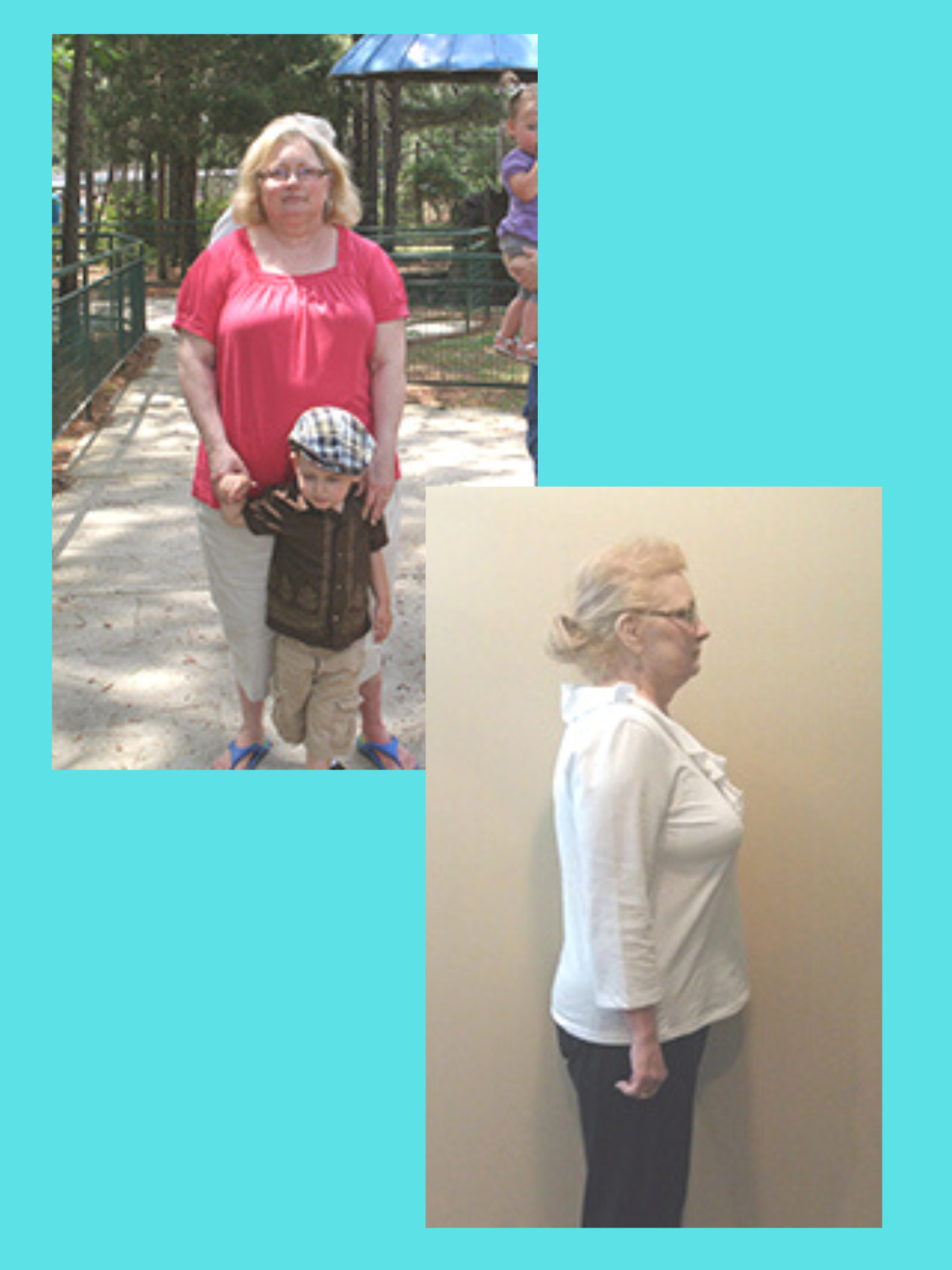 "Changed My Life!"
"I have lost over 70 pounds and almost reached my goal weight. Most of my medical problems are under control, and I was able to reduce the number of medications that I was taking. I highly recommend Alane Wincek and the Metabolic Mastery program to anyone with weight problems. My life is truly changed for the better."
- Happy Client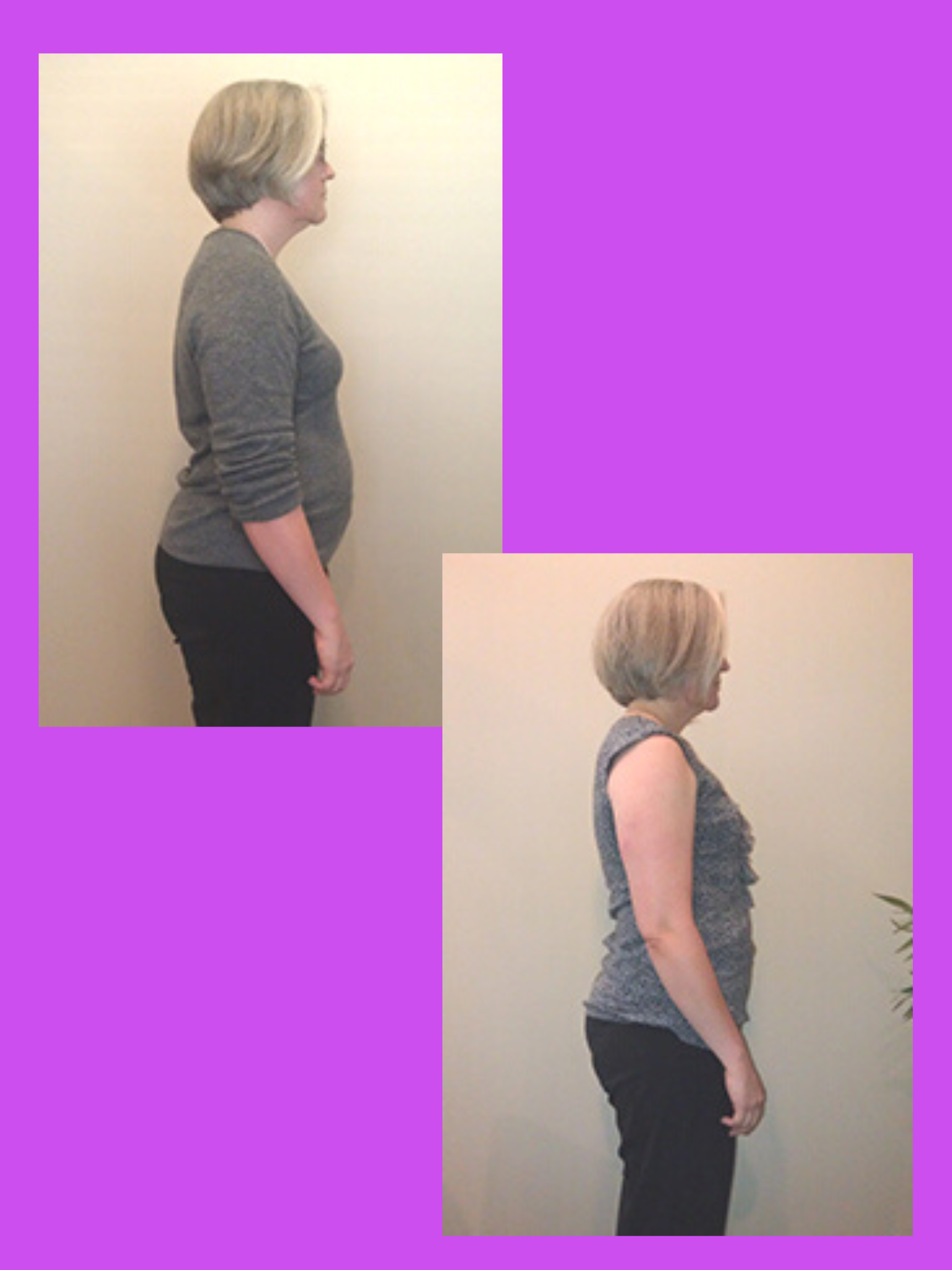 "Finally Have the Right Plan"
"I have been with Alane for a few months now. I started with just pure dissatisfaction with myself and my appearance. I was gaining weight and didn't know how to stop it or even control it. I ordered the Metabolic Mastery Book and video series and soon realized that this should've been my initial choice since that would have saved me from the numerous fad diets, diet pills, etc." 
- Melissa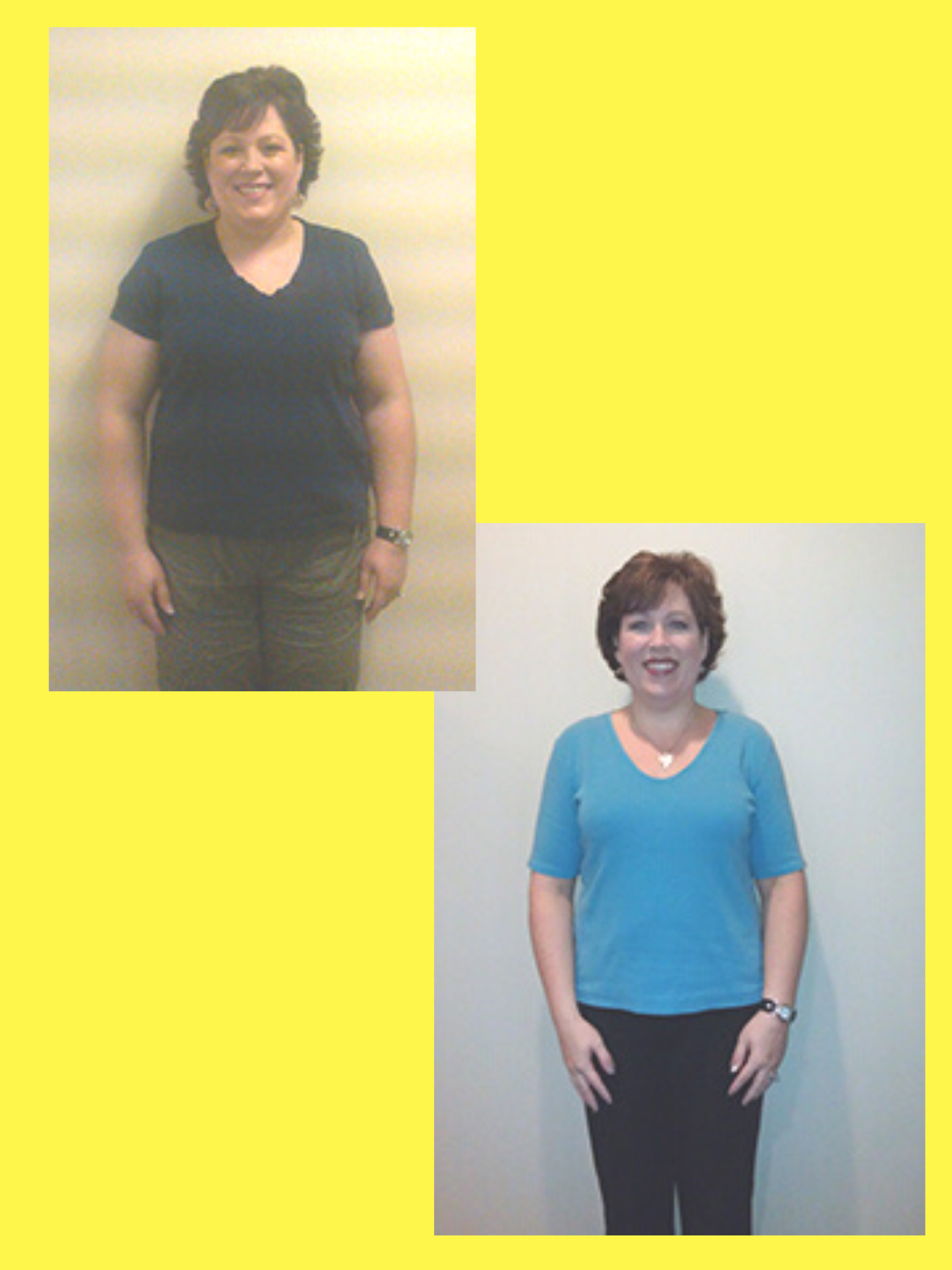 "Game-Changer!"
"Within a few months, I dropped all the weight I wanted, the puffiness disappeared, and my skin greatly improved. I went from wearing a size 12 to a size 6. My relationship and knowledge of food and nutrition have changed completely – all because of Alane and her metabolic program. I know that if I had not read this book and ordered the video series, I would be very sick by now. I am very thankful for her!" 
 - Michelle
AT LAST!
METABOLIC MASTERY eBOOK
For Women Over 40!
Easy to Follow Game Plan For Your Weight Loss Goals That You Can Start Right Away!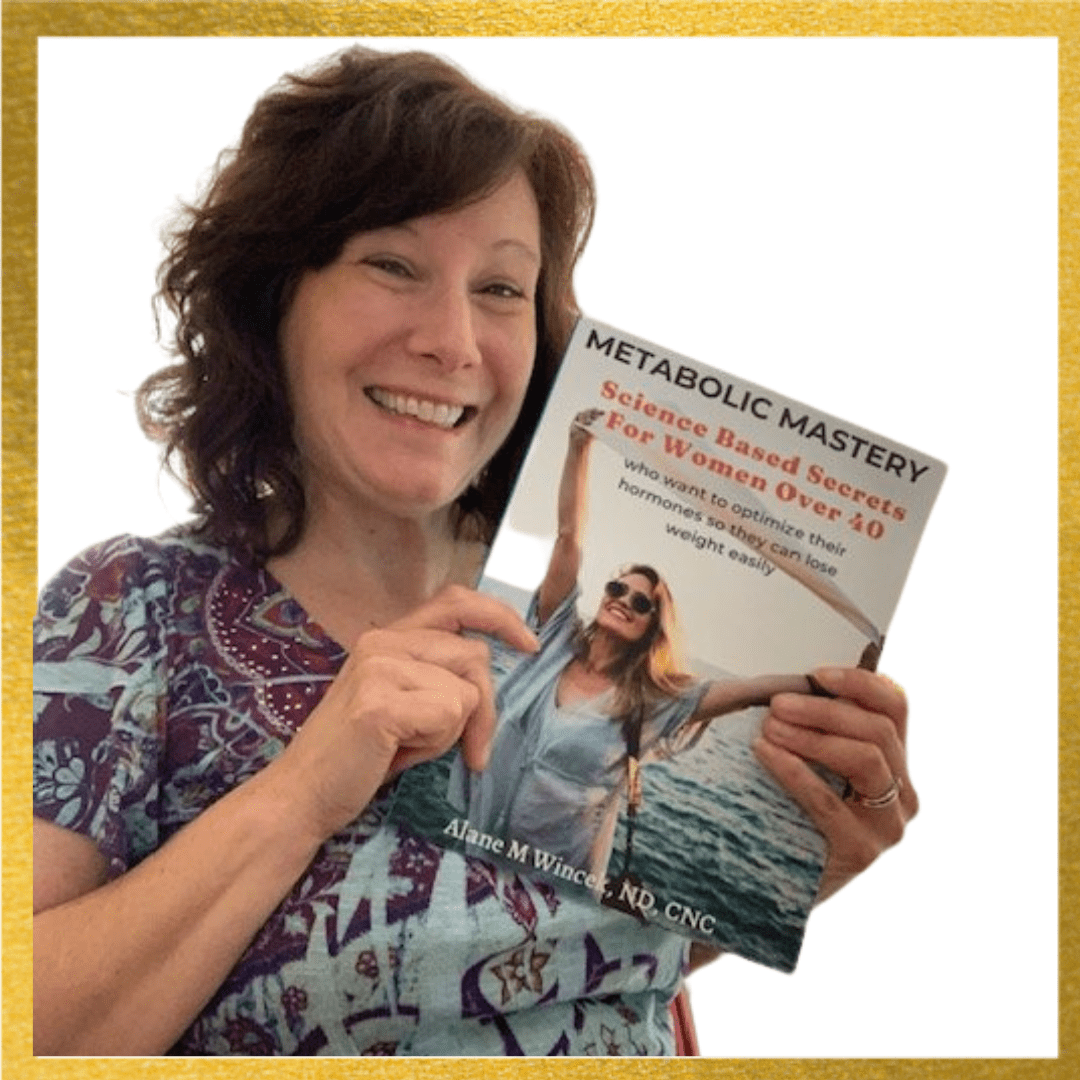 Scientific, Proven Methods to Lose Weight Even if You Are Stuck in a Plateau!
"I was stuck in menopausal weight gain, and now I am a fat-burning woman, always in a ketogenic
(fat-burning state) with balanced hormones." 
Secrets for Fat-Burning Success!
Here's A Sneak Peek of What's Inside the Metabolic Mastery Book
Section 1:

Metabolic Mastery eBook Secrets
Secret #1: Scientific methods to lose weight easily so you can break through weight loss plateaus and achieve your weight loss goals quickly.
Secret #2:​ You will have an action plan which enables you to learn from a top, holistic nutritionist with 30+ years of success, which means you will have a plan you can trust.
Secret #3:​ A proven ketogenic (fat-burning) weight loss and health-improving game plan for your goals so you can know that your actions have helped thousands of women already ... the same pathway to success many other women have taken.

Secret #4:

​No pills, fads, or gimmicks, just real food you buy at the store to help you succeed, which makes weight loss easy for you to do. Which means you can easily surpass your weight loss goals fast.
Secret #5: Develop an unbeatable mindset that lets you meet and overcome weight loss or health challenges so you'll live an extraordinarily healthy and active life in all the areas that matter, including family, travel, finances, adventures, and goals.
Secret #6: ​You will discover exactly what to eat, how much, and when. No guessing games with food, just clear answers that are easy to follow so you can eat the best foods for your weight loss and health goals.
Secret #7: Your blood sugar will stabilize, and your sugar and carbohydrate cravings will reduce, which means you will feel more satisfied with food easier and crave sugar less.
Secret #8:​ By learning this simple program, you will learn how to burn fat easily... reduced body fat means you will have a healthier, fit, and lean body...means more confidence in life.

Secret #9:

Discover how to reduce insulin spikes which means your body will make less fat which means you will lose weight.
Secret #10: You will have more energy to accomplish more in life, which means You will enjoy more fun things and reach your life goals more quickly.
Section 2:

Metabolic Mastery eBook Secrets
Secret #11: Everything you need for hormone balance in one place.
Secret #12:​ Make a step-by-step simple plan for you to to be healthy, fit and lean.
Secret #13: ​Helps you understand exactly how to get in great physical condition now... not later!
Secret #14: ​Makes it easy to balance your hormones naturally, even if you have struggled previously.
Secret #15: Answers the question "How can I lose weight and keep it off this time?" once and for all.
Secret #16: ​Reveals the answer every woman wants to know for "How can I get in great shape without living at the gym?"

Secret #17

: Gives you real insight into answering the question "How can I balance my hormones naturally so I feel emotionally balanced?"
Secret #18: ​Unlock the secrets to break through weight loss plateaus so you don't get stuck again, faster and easier than you ever dreamed possible
Secret #19: It gives you the keys to losing weight and getting healthy, fit, and lean without the headaches and frustration.
Secret #20: Smash through the myth that your hormone swings are out of control permanently.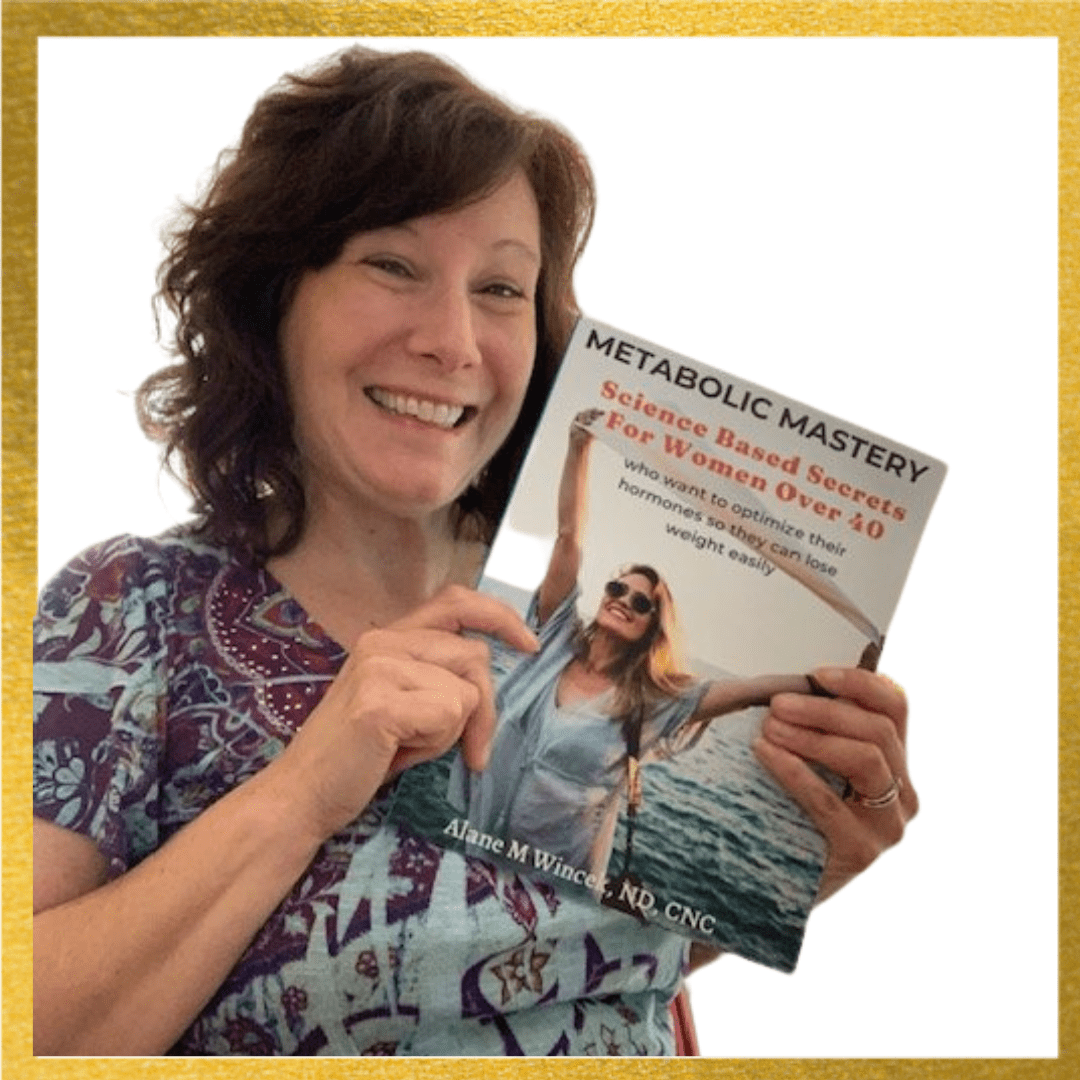 I Want This Life-Changing Book Today!
Hi, I am Alane Wincek, a holistic nutritionist, a newlywed, and a busy, working menopausal mom that loves life and yoga pants. 
I used this new fat-burning meal plan to lose 30 pounds in 12 weeks and have kept it off! Love it!
Did I always eat healthy? Nope! I grew up with sugar as my primary food group. I had fatigue, sugar cravings, hormone swings, blemishes, hair loss, weight gain, and blood sugar ups and downs. 
In 1990 I realized my life's work was to help improve women's lives through nutritional counseling and holistic health techniques. 
I returned to school and graduated with two certifications-one in holistic nutrition and the other in naturopathy.
I have seen thousands of women lose weight and feel and look more radiant, confident, and healthier. My program is called "Metabolic Mastery," and it works! It has been giving women insane results when nothing else has worked. Love it!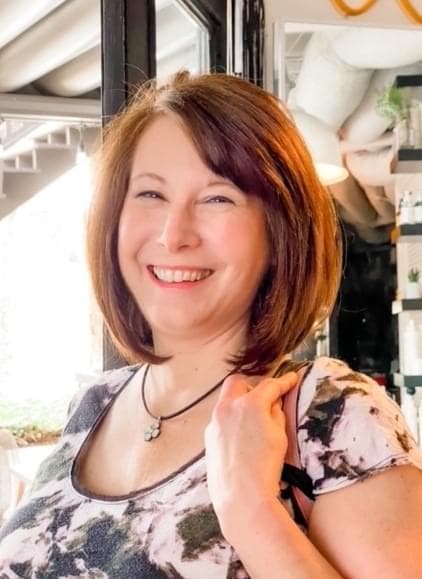 Step 1: Order my book and get started discovering new secrets to weight loss success.
Step 2: Ready for Real Long-Term Results? Jump on in and Order the Life-Changing Metabolic Weight Loss Program!
Ready for MORE? Great! Check out the Metabolic Mastery Program and Start Getting the Weight Loss Results You Want and Deserve!